Out of all the carrot cake recipes I've tried, this is the perfect one. It's light, fluffy, and packed with flavour from warm spices and a perfectly sweet and tangy cream cheese frosting. If I didn't already know it was vegan, I wouldn't be able to tell.
Even my family, who aren't vegan and generally dislike the odd texture and flavour that sometimes comes with vegan recipes, weren't able to tell.
This is actually a recipe taken from my coming recipe book, but I thought I'd share it here as well because I just love it so much.
One thing I hate with carrot cakes is when there are large carrot pieces in every bite. I prefer them to be small and almost unnoticeable, as they are in this recipe. Of course, you can use a larger grater if you prefer larger pieces.
I like carrot cakes with a good balance between cake and frosting and one that isn't too dense. The first iteration of this cake included a puréed apple in place of an egg to add moisture, but I felt it was too heavy, and paired with cream cheese frosting (that's also generally quite heavy), I needed it to be a little lighter.
So I removed the puréed fruit, added some extra fat and a touch more vinegar, and the cake turned out perfect. Fluffy, but not too dry, and had just the right texture and crumb for a carrot cake.
The best part is that you can increase or remove certain spices to your cake and adjust it to your liking. Want more spice? Add more ginger. Don't like nutmeg? Keep it out. For an added boost of flavour, add 1/2 tsp ground cardamom! It's completely up to you.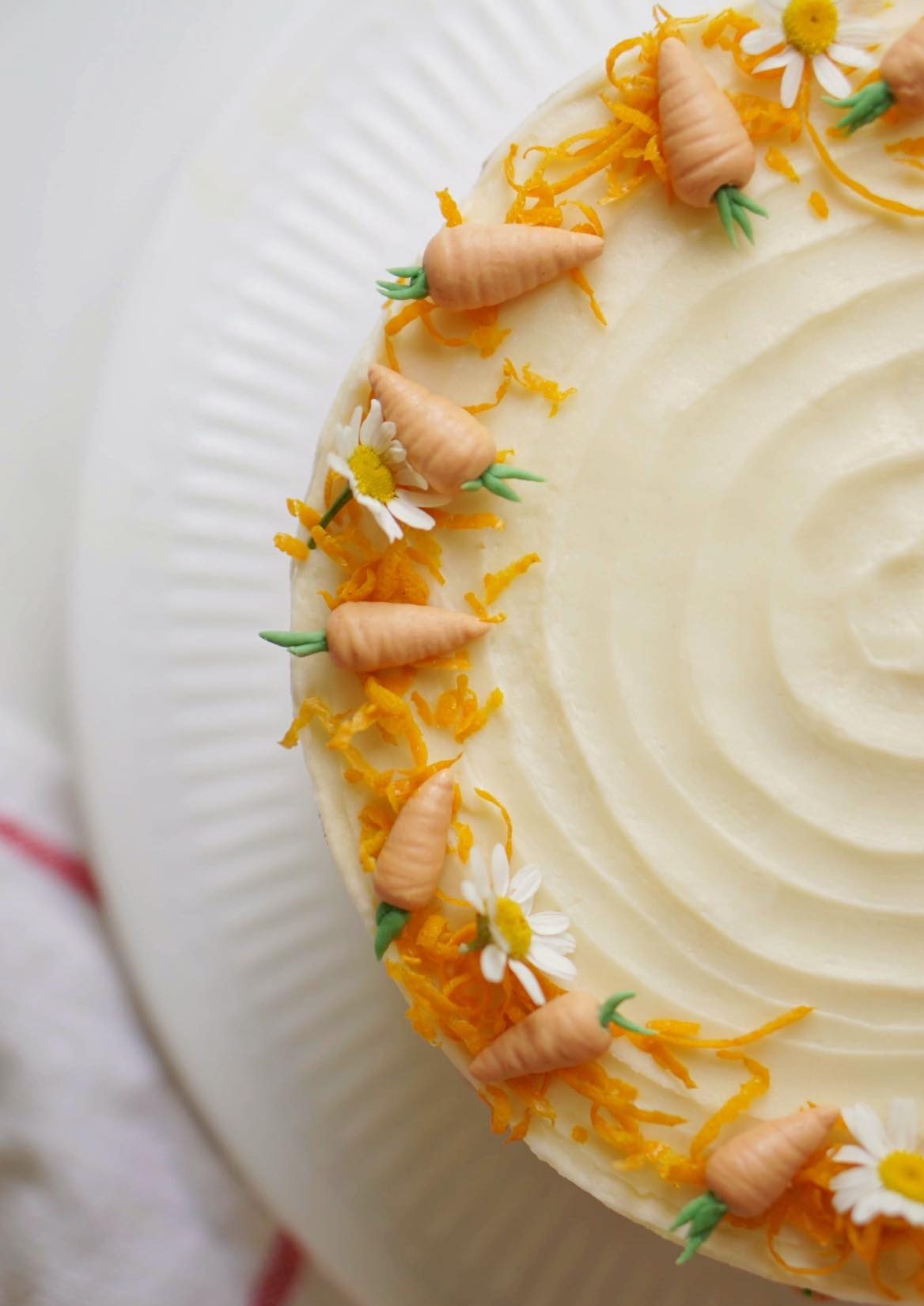 How to make the perfect cream cheese frosting
Cream cheese frosting can be is surprisingly tricky to perfect. Before I started making vegan cakes, I would always struggle to make my cream cheese frosting as thick as I wanted it. It would turn out runny, no matter how much I whipped the ingredients or how much powdered sugar I would add.
I am also not a huge fan of frostings that are too sweet, so there is a limit to how much sugar I'm willing to add in order to thicken frosting!
Then I learned that cream cheese often includes too much moisture to get that thick, luscious frosting we all dream of. If you're making your frosting non-vegan, I would suggest adding the cream cheese to a clean nut milk bag or cheese cloth and squeeze out all the liquid you can before adding it to your butter.
It's also important to use butter in block-form, and not in a tub (as mentioned in the recipe notes!), as the butter from a tub is made spreadable, meaning there's more moisture in it than the butter that comes wrapped in paper.
If you follow all the steps mentioned above and your frosting is still too runny, let it set in the fridge for an hour, or in the freezer for 15 minutes at a time. After all, butter softens at room temperature and solidifies in cooler environments.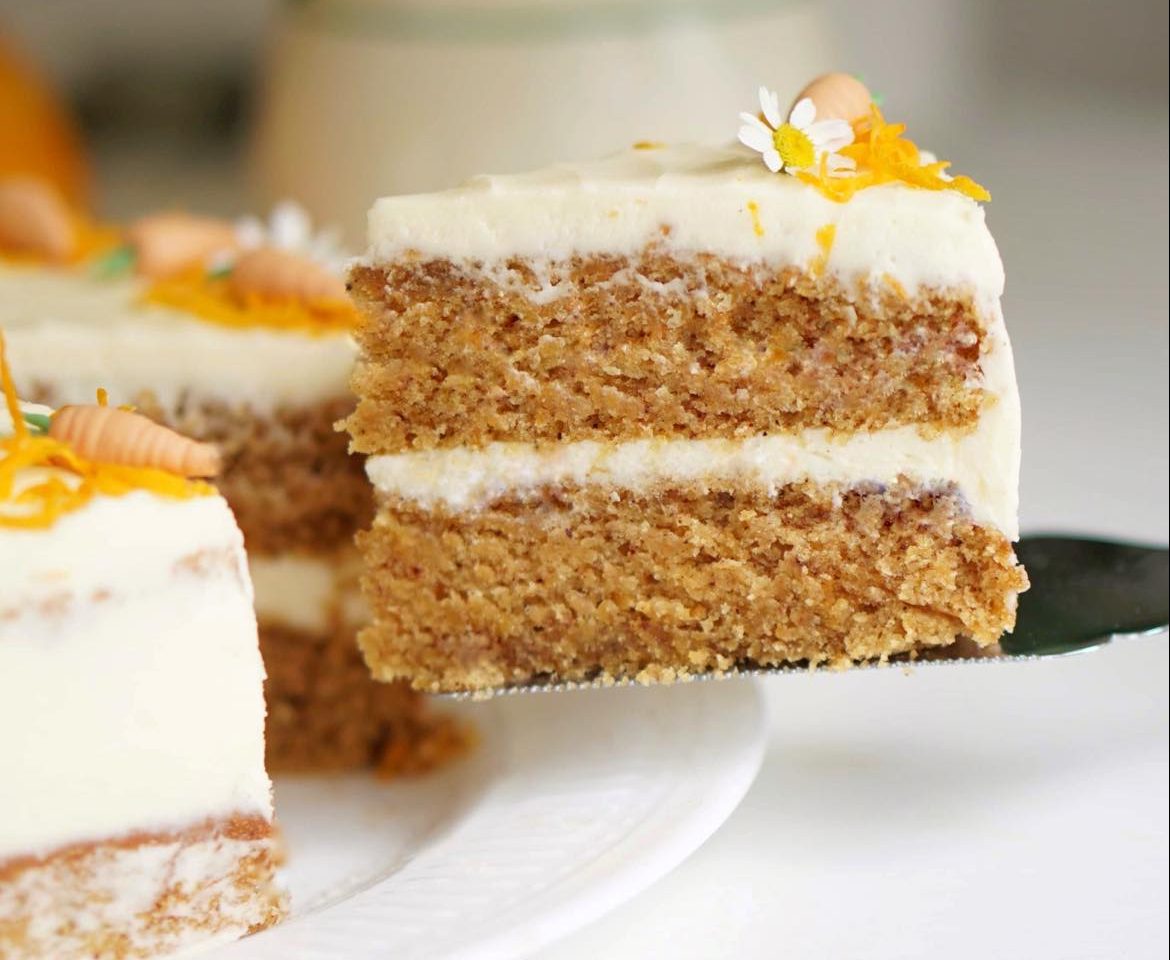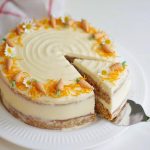 Print Recipe
Carrot Cake
Out of all the carrot cake recipes I've tried, this is the perfect one. It's light, fluffy, and packed with flavour from warm spices and a perfectly sweet and tangy cream cheese frosting. If I didn't already know it was vegan, I wouldn't be able to tell.
Ingredients
Carrot Cake
240

g

plant-based milk

2

tsp

apple cider vinegar

3-4

(150 g)

finely grated carrots

60

g

neutral oil

(I use olive oil)

230

g

self-rising flour

200

g

caster sugar

1

tsp

baking soda

1

tsp

baking powder

1

tsp

vanilla extract

2

tsp

cinnamon

1/4

tsp

nutmeg

1/2

tsp

ground ginger

zest of one orange

(optional)
Cream Cheese Frosting
110

g

soft plant-based butter

(from a block, not a tub)

290

g

vegan cream cheese

(room temperature)

250-350

g

powdered sugar

(read recipe noted below)

2

tsp

lemon juice

(optional)
Instructions
Carrot Cake
Preheat oven to 175°C or 350°F. Line two round 18 cm cake tins (or one 20x20 cm square tin) with parchment paper. Combine plant-based milk and apple cider vinegar in a small bowl and let sit for 10 minutes.

Mix the flour, sugar, baking soda, baking powder, cinnamon, nutmeg, and ginger in a large bowl.

Add the oil, vanilla, and orange zest to the milk mixture and pour it all into the bowl of dry ingredients along with the grated carrots. Mix lightly with a whisk until evenly combined.

Bake for 25-30 minutes or until a toothpick inserted into the cake comes our clean or with a couple of crumbs. Allow to cool for 20 minutes in the tin before transferring the cake to a wire rack to cool completely.
Cream Cheese Frosting
Add the butter to a large bowl and whisk until light and fluffy. Add the cream cheese and continue whisking until creamy and smooth.

Add the powdered sugar a little at a time, mixing between additions, until you reach your desired thickness and sweetness. I add no more than 250 grams, as I don't love overly sweet frostings, but it's up to you! If it's too runny, place the bowl in the fridge for an hour before frosting your cake!
Assembly
If using a square tin, spread the frosting evenly over the surface of your cake and serve! If making a layer cake, add about 1/3 of the frosting between the two layers and spread it evenly across the surface.

Add the second cake layer with the flat side up. If doing a crumb coat, spread a thin layer of frosting all around the cake and let set in the fridge for half an hour before adding the remaining frosting. If not, simply scoop the remaining frosting on the cake and spread it evenly across the surface and along the sides.

Decorate however you wish, and serve immediately or let set in fridge for half an hour to let the frosting stiffen. The cake will last for 4-5 days in the fridge.
Notes
Make sure all your ingredients are at room temperature before you begin, especially when it comes to making the frosting.
It's important that you use plant-based butter in block-form, as the spreadable kind in a tub will often be too soft, resulting in a very thin frosting.
The amount of powdered sugar you add to the cream cheese will vary. If you want frosting that isn't too sweet but still firms up in the fridge, use less. If you want a sweeter and thicker frosting, add more.