This old-fashioned ermine frosting turned vegan tastes just like buttercream, but it's much less sweet than traditional American buttercream and uses a flour-based roux and caster sugar instead of powdered (icing) sugar.
This frosting is one of my favourites, mainly because of how foolproof it is and because it only requires four simple ingredients to make. It's so easy yet delicious and I love how versatile it is.
I've made this frosting lemon-flavoured by adding a splash of fresh lemon juice and lemon zest, chocolate flavoured by adding some cocoa powder, and cookies and cream flavoured by adding crushed chocolate cookies.
I use it for almost anything, as it's so easy to make, and I always have all the ingredients on hand.
If you like the buttery creaminess of traditional buttercream but dislike the tooth-aching sweetness, you should give this recipe a go! Don't feel intimidated by making the roux, it's so simple and only takes a few minutes!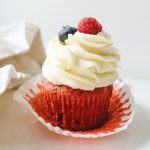 Print Recipe
Vegan Buttercream (Ermine Frosting)
This fluffy, smooth, and rich vegan buttercream is not too sweet, easy to make, doesn't require a ton of butter, and most importantly - it's so delicious and extremely versatile! It makes enough frosting for 12 cupcakes or to lightly frost a 2-layer 20 cm (8-inch) cake.
Ingredients
245

g

plant-based milk

(read notes)

200

g

caster sugar

45

g

flour

1/4

tsp

salt

225

g

soft plant-based butter

(read notes)

1

tsp

vanilla extract

optional flavourings
Instructions
Whisk the sugar, flour, and salt together in a saucepan over low-medium heat. Slowly pour in the milk while whisking until no lumps remain.

Whisk continuously and cook until the mixture thickens without turning up the heat. It should reach a thick custard-like consistency. This is your roux mixture.

Once finished cooking, transfer to a heat-safe bowl, cover the surface with plastic wrap or wax paper, and place the mixture in the fridge until completely cool.

Once it's cool, add the soft butter to a large mixing bowl and whisk on medium-high speed until light and fluffy, around 2-3 minutes.

Add the roux mixture one spoonful at a time and whisk on medium-high speed for 20-30 seconds between each addition. Continue until all of the roux has been added, scraping down the sides of the bowl as necessary.

Add the vanilla (and other flavourings, if using) and continue whisking for 1-2 minutes until light and fluffy, and the roux is fully incorporated into the butter.

Use immediately to frost your cupcakes or cake or store in an air-tight container in the fridge for up to 4-5 days. When ready to use, allow it to warm back up to room temperature before using, as it would have solidified in the fridge.
Notes
I use oat milk for this recipe because I prefer the flavour, but keep in mind that the colour of the milk might slightly affect the colour of the finished frosting. If that's something you're concerned about, use a milk alternative that's lighter in colour, such as soy milk or coconut milk.
It is important to use butter or margarine that comes in stick or block form, not the spreadable kind in a tub. This is because the latter is too soft and won't be sturdy enough to use in the frosting. 
For chocolate frosting, add four tablespoons of cocoa powder to the frosting after all the roux has been whipped with the butter.